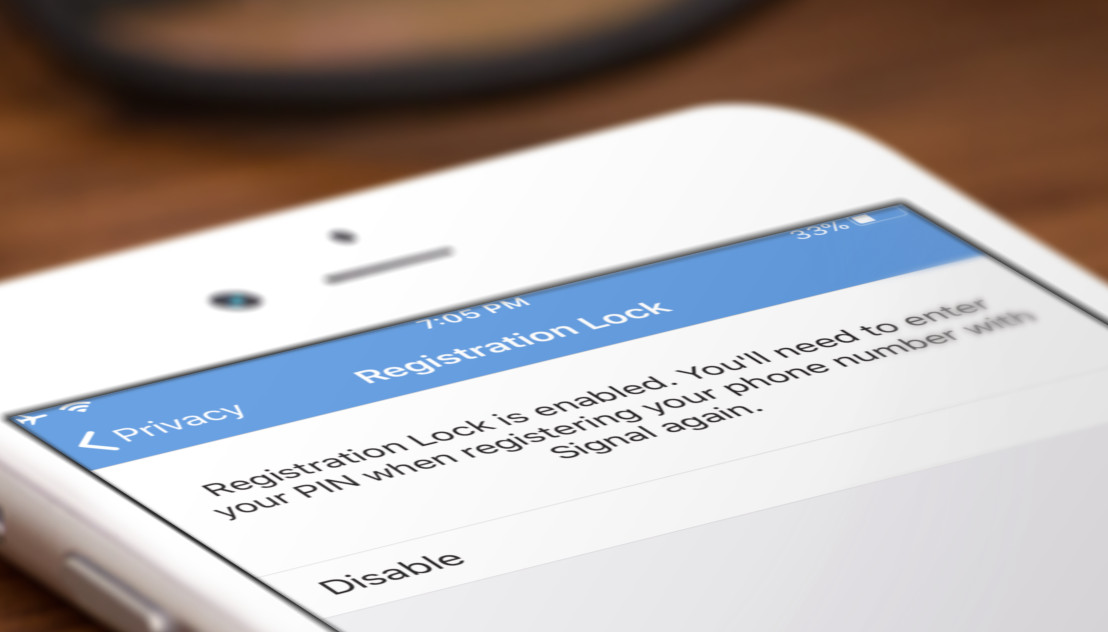 For increased security, you can enable a Registration Lock PIN. You will be asked to enter this PIN the next time you register your phone number with Signal.
Using a Registration Lock PIN adds an additional layer of verification to the registration process that can help prevent someone from using Signal with a phone number that doesn't belong to them.
How do I enable or disable my Registration Lock PIN?
Signal Settings > Privacy > Registration Lock PIN
How long can my Registration Lock PIN be?
Your Registration Lock PIN can be between 4 and 20 digits.
How does Signal help me remember my Registration Lock PIN?
Signal includes a built-in reminder feature that uses spaced repetition. To help you memorize your Registration Lock PIN, Signal will periodically ask you to confirm it. These reminders occur at the following intervals after the feature is first enabled:
6 Hours
12 Hours
1 Day
3 Days
7 Days
You will see the reminders less frequently if you consistently enter your Registration Lock PIN correctly. The reminders will become more frequent if multiple attempts are necessary.
Can I turn off these reminders?
It is important to memorize your Registration Lock PIN, and the reminders cannot be disabled. However, you will only see the reminder once a week after you have correctly entered your Registration Lock PIN multiple times.
What if I forget my PIN and need to re-register on a new phone?
If you have access to the device where Registration Lock was enabled, you can disable it at any time (Signal Settings > Privacy > Registration Lock PIN). If you don't have access to your old phone, you will need to wait for the Registration Lock to expire.
When do Registration Locks expire?
Registration Locks expire after 7 days of inactivity. If you don't have access to the previously registered device and cannot remember your PIN, you will be able to register for Signal again after waiting for this expiration period to pass.
How does Signal help ensure that Registration Locks don't expire for less active users?
The expiration timeout counter is reset whenever a client connects to the Signal service. In addition to activities like sending or receiving a message, the Android and iOS apps will make occasional requests to the server so that the Registration Lock is kept alive.
Is this feature required?
No, setting a Registration Lock PIN is optional.